handrawn and handpainted illustrations // surface pattern design
Studio Assorti is a pattern design studio. The motifs for the patterns are drawn and painted by hand.
I am Joke Seys, the creative entrepreneur behind Studio Assorti.
The creative aspect has always been a very important part of my life. I went to art school at the Luca School of arts in Ghent (Belgium). After that, I got my degree as an interior designer.
Besides drawing and painting, I have a passion for colors and interior design. My own collection of home decor has also emerged from this passion. I get inspiration for the creative process from my immediate environment, but also from a great love for animals and nature. I like to experiment with different styles and techniques to create a certain vibe in my illustrations and pattern designs. Can find some examples of my work in my portfolio.

Are you interested in working with Studio Assorti?
Please get in touch to discuss licensing my work. I would love to work with you! I would also love to do a commission, freelance work and collaborations. Please don't hesitate to contact me for more information or just to say hello! Just send an email to info@studio-assorti.be .
P.S. Would you like to get to know me a little better?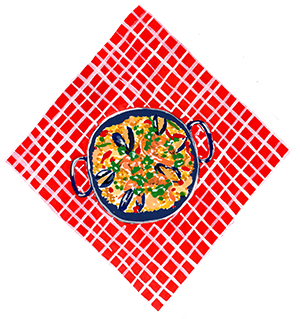 What is your favorite interior decoration style?
A lot of color and maximalistic
What is your favorite drink?
Red wine

The best food?
Mediterranean cuisine
Do you have pets?
Two cats Mimi (black) and Siebert (tabby)
What is your favorite color?
Terracotta

What age are you?
46
Family members?
A husband and two teen boys

What is your travel DNA?
Camping in the south of France